13 Must Have Apps on your Dev PC
⏰ Old Post
This post is over 15 years old - it might be slightly outdated and consigned to the history books.
I recently rebuilt a computer in the office and always install a set of applications right after all the drivers are installed that I know I will use. I've listed them here, there might be some gems that you are missing out on.
7z – 7-Zip Archiving
All your file zipping and unzipping needs. Supports loads of formats including 7z, ZIP, GZIP, BZIP2, TAR, RAR, CAB, ISO, ARJ, LZH, CHM, MSI, WIM, Z, CPIO, RPM, DEB
(Yet) Another Bittorrent Client – BitTorrent Client
A simple to use bit torrent client for all of your ISO downloading needs. Keep it legal kids!
Google Chrome – Web Browser
Googles browser is a fantastic browser to use if you just want to access the web efficently and quickly.
FileZilla – FTP Client
FileZilla is a great opensource FTP program that also also supports ssh connections, there's even a server if you need one!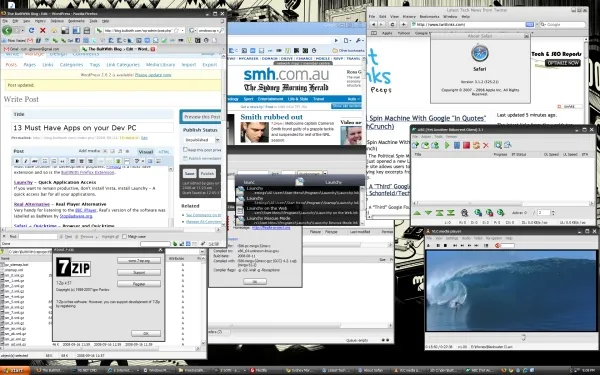 Running them all at once is not a requirement
Firefox – Web Browser
Must have browser for development purposes. Firebug is a must have extension and so is the BuiltWith Firefox Extension.
Launchy – Quick Application Access
If you want to remain productive, don't install Vista, install Launchy – A quick access bar for all your applications.
Real Alternative – Real Player Alternative
Very handy for listening to the BBC iPlayer. Real's version of the software was labelled as BadWare by StopBadware.org.
Safari + Quicktime – Browser and Quicktime
Safari for testing purposes and quicktime for videos!
MagicDisc – ISO Mounting
Mount ISO files as if they were DVD drives. Very handy for installing software.
Unlocker – File Unlocking
Ever get the message – "Cannot delete file it is being used by another person or program". This program ends those days.
VLC – Multi Purpose Media Player
Play pretty much any media file without any issues in VLC.
Zune – Windows Desktop Theme
Make Windows XP look a bit more like Vista and pretend its not still 2001.