BarackObama.com vs. MittRomney.com
⏰ Old Post
This post is over 11 years old - it might be slightly outdated and consigned to the history books.

Next month the US votes in the presidential election, we've dissected the two front runner websites; BarackObama.com and MittRomney.com, to determine what technologies each of them are using to run their online campaigns.


BarackObama.com

Hosting

Level 3 - BarackObama.com is hosted on an IP address owned by the Democratic National Committee, it's nearest upstream provider is Level3 who's CEO James Q. Crowe is a supporter of the Democratic party.


DNS Provider

Amazon Route 53 - Amazon provide a scaleable DNS management system perfect for the website of the POTUS.


Email Provider

Amazon SES - Another Amazon product used by BarackObama.com, this is most probably used to send marketing campaigns to the thousands/millions of people who entered their email address for updates.


Analytics and Tracking

Barack's web team uses a host of different technologies to track visitors to the site. Optimizely is being used for A/B testing, New Relic is being used for server management and monitoring, Google Analytics for user tracking, Chartbeat for live visitor tracking and BrightTag as a tag management solution. The site is also using social insights from Facebook Domain Insights to track visitors. Barack's team are also using Ethnio to do live visitor interception.


JavaScript Libraries

The site is using JQuery and Modernizr which allows the website to use modern HTML5 and CSS3 features that modern browsers provide, whilst also catering for older browsers.


BarackObama.com Conclusion

BarackObama.com is a great example of a modern website. In addition to using some of the latest technologies listed above the site ensures it has all of the best meta options attached to it, such as Google Chrome IE Frame and HTML5 DocType, Microdata support and ViewPort support for mobile devices.






MittRomney.com

Hosting

Akamai - Romney's website was previously hosted at Amazon, it is now hosted on the Akamai network. Akamai is an expert in global data delivery and is a good choice for a high traffic site. Interestingly Akamai's outgoing CEO Paul Sagan has donated over $250,000 to  various Democratic fund raisers.


DNS Provider

Akamai - Another Akamai technology being used, previously Romney used Dyn for NS hosting.


Email Provider

MittRomney.com uses a variety of mailing platforms to manage its inbound and outbound email. MailChimp has been used for sending campaigns as well as ConstantContact and ExactTarget. They also use McAfee SaaS email services for inbound.


 Content Management System

Romney's team uses Drupal to manage their site. Drupal provides a flexible modular design and is a very popular CMS growing in popularity.


Analytics and Tracking

Just like Barack, Romney's team uses a host of different tools for analytics. New Relic, Optimizely and Facebook Domain Insights are used here as well. Romney uses Search Discovery Satellite for tag management and Google eCommerce Conversion Tracking over Google Analytics. The site also uses Compete tracking and Lotame Crowd Control for advanced marketing based targeting.


JavaScript Libraries

jQuery is used throughout Romney's site as well as a number of jQuery plugins including bgiframe, Colorbox, Cycle, QTip and Form. In addition to these MittRomney.com uses Hover Intent and SuperFish libraries for CSS menus.


MittRomney.com Conclusion

MittRomney.com is another well designed site using many of the best web based technologies available. Romney's website also uses 960.gs grid system for it's design and has many social integration widgets such as Mollom, Facebook Like, Twitter Follow and ShareThis.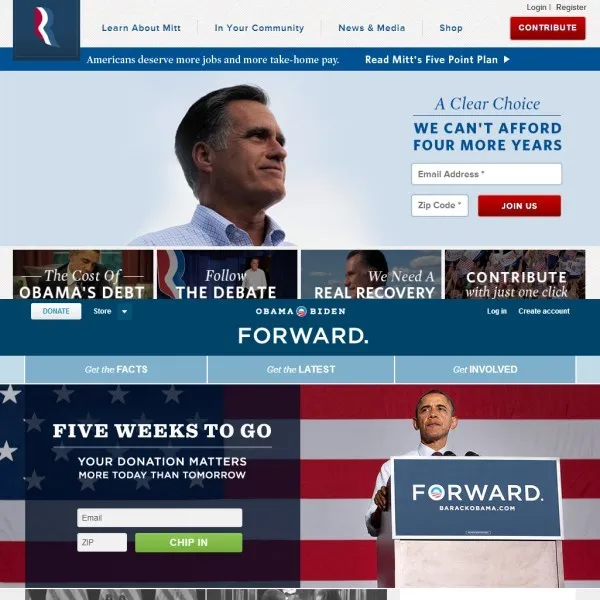 BarackObama.com vs. MittRomney.com

Visually both sites appear very similar, both have a splash screen to try and get your email and zip code and both share the same red, white and blue colours of the United States flag.

From a hosting perspective, Romney's camp has DNS and Hosting all in the same location, whilst Obama uses a combination of Amazon and Level3. Both providers offer reliable uptime.

Tracking and Analytics wise the site are also both tied, the sites are both using the same array of technologies albeit from different providers in some instances.

The big difference in site implementation is the JavaScript technologies in use, MittRomney.com has lots of various jQuery libraries in use whilst BarackObama.com uses fewer libraries and more wrapped JavaScript functions for custom content, such as JSON and Polyfills for the splash screen.

BarackObama.com has better support for SEO and other various meta attributes that are required in a modern website, such as a canonical content tag, Microdata, Chrome Frame, Meta ViewPort and many more.

In conclusion, from a user perspective the sites are tied in their functionality offering. From a technical perspective BarackObama.com is a slightly better implementation thanks to its conservative use of JavaScript includes and better meta data support.

View both the MittRomney.com and BarackObama.com profiles on BuiltWith.