Liberal vs. Labour - Web Technology Showdown
⏰ Old Post
This post is over 10 years old - it might be slightly outdated and consigned to the history books.

Australia is set to vote next month in the 2013 federal election, we take a look at the two major parties homepages to determine who is winning from a web technology standpoint.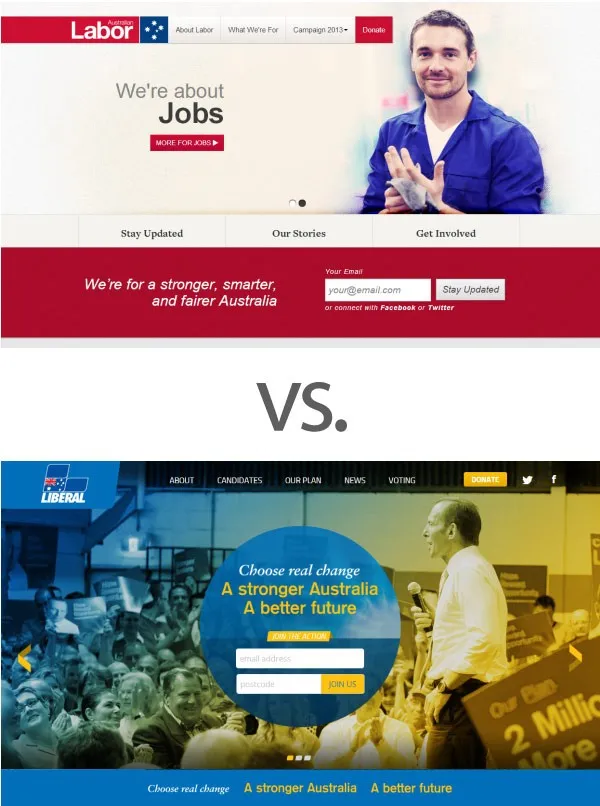 Labour - alp.org.au

CMS - NationBuilder
Community Organizing System - both a website and a people database. It's a CMS system specifically designed with governments in mind, based out of Los Angeles, NationBuilder has raised over $14 million. The ALP previously used a Microsoft Kentico CMS before swapping that our for NationBuilder just 3 months ago.

Hosting - Amazon EC2 Singapore
The ALP website is hosted in Amazon infrastructure, based out of Singapore. They should consider using Amazon's Sydney based infrastructure for faster response times for visitors to their site.

Analytics - ChartBeat, Google Analytics and New Relic
Some of these technologies may be installed by the CMS system in use. ChartBeat provides real time analytics for their website whilst New Relic monitors the hardware. Google Analytics is installed on the majority of websites as par for the course.

Email - Not known
All signup forms and records tell us they are using their own in-house mailing system. They may be using a package we cannot identify.


Liberal - liberal.org.au

CMS - Drupal
The liberals have been using Drupal for a year, before that they used SiteCore CMS. Interestingly both the liberal and labour party have moved away from Microsoft to use more open source based CMS systems.

Hosting - Amazon EC2 Sydney
The liberal's site is hosted on Amazon infrastructure but based in Sydney. Their website response time from Sydney is 7 times faster than the ALPs because of this.

Analytics - Optimizely, Google Analytics
The liberal team are using A/B testing with Optimizely. Optimizely was created by developers on Obama's initial election campaign website.

Email - Campaign Monitor / MailChimp
Slightly confusingly the liberal's web presence shows signs of using both Campaign Monitor and MailChimp. If the Liberal's are using Campaign Monitor then this is the only home-grown web technology currently in use on both parties websites.


The Winner

Australians in the tech space who want Australia to benefit from the National Broadband Network should consider voting for Labour, as the liberals have plans to scrap it. However, based on the website implementations, the liberal party has more of a technical edge in their implementation. They've used Australian based hosting (albeit via a US company) as well as a Sydney based company to provide them with mail campaign support and are using some more advanced caching technology such as Varnish to ensure their website can handle significant load.