A Closer Look At Popular WordPress Plugins
⏰ Old Post
This post is over 10 years old - it might be slightly outdated and consigned to the history books.

We've already seen that WordPress is the most popular content management system (CMS) on the web today. WordPress is being used by around three times as many of the top 100K sites than it's closest competitor, Drupal. One of the reasons for its success is the amount of customization that's possible.

The WordPress CMS can be used for a whole host of different applications, whether you're looking to set up a blog, a portfolio site, an ecommerce store, a membership site or anything else, there is a way to do it with WordPress. The main way that WordPress incorporates all of these different functions is by using plugins. The WordPress plugins allow a site owner to pick and choose which functionality to add, and to customize their site.

There are currently over 25,000 WordPress plugins to choose from, many of which claim to do the same job as countless other plugins out there. So how do you know which plugins to choose?

One place to start would be with articles describing which are the best plugins of each type, but perhaps an even better place would be to dive into the data to see what story it tells.

In the sections below I'll focus on three popular WordPress plugins and see what the BuiltWith Trends data is telling us.


W3 Total Cache

W3 Total Cache is a plugin which aims to improve the user experience of a site by caching aspects of a site and reducing user download times. It has been around for a while and has proven to be quite popular with a good number of WordPress users. Looking at the general trend data, it would appear that the uptake of the W3 Total Cache plugin is holding steady in its usage.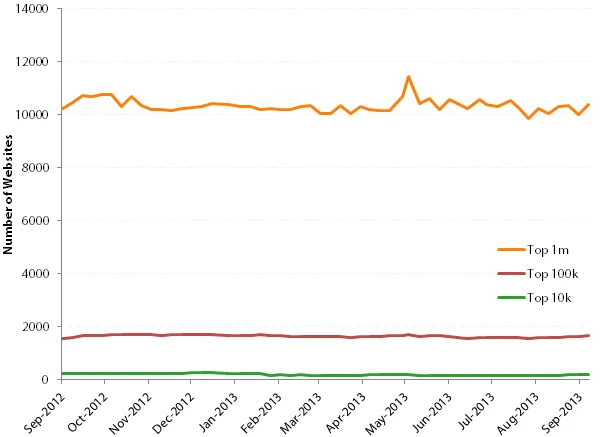 Websites using W3 Total Cache in Top 10k, 100k and Million

However, this data doesn't tell the full story.

The W3 Total Cache plugin is a WordPress plugin, and will only ever be found on a WordPress site. The chart above shows that 10,000+ of the top Million of all sites use the plugin, whether WordPress is their CMS or not. Whilst the general trend on this chart is moving up, it doesn't necessarily mean that the W3 Total Cache Plugin is getting more popular. The trend could also be explained by there being more WordPress sites in the top million sites. To work out what's really going on, we need to take a look at the percentage of WordPress sites which use the W3 Total Cache plugin. Doing that gives some interesting results.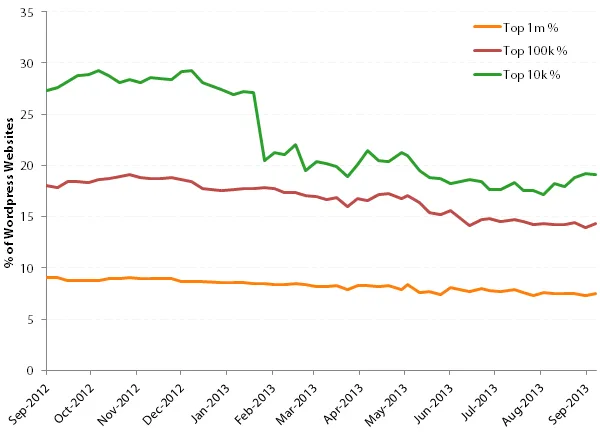 Percentage of WordPress websites using W3 Total Cache

Here we can see that the plugin is actually becoming less popular rather than more as it first appeared. It's interesting to note that the plugin has a higher uptake amongst the WordPress sites found in the top 10k sites, with just under a third using the plugin towards the end of last year. Since these sites are more likely to be well optimized, it looks like the plugin was considered to be very effective. The trend started to tail off at the start of this year, especially amongst the WordPress sites found in the top 10k. Looking at the data, it seems likely that something else was released at the end of 2012 that WordPress sites started to use for caching.


Yoast Plugins

Next up are the Yoast plugins. Yoast offers a range of WordPress plugins and by far the most popular is their WordPress SEO plugin. This set of tools allows WordPress site owners to optimise their pages to boost their rankings in search engines.

Looking at the data in the same way as above, showing the percentage of WordPress sites using Yoast plugins, gives the following chart.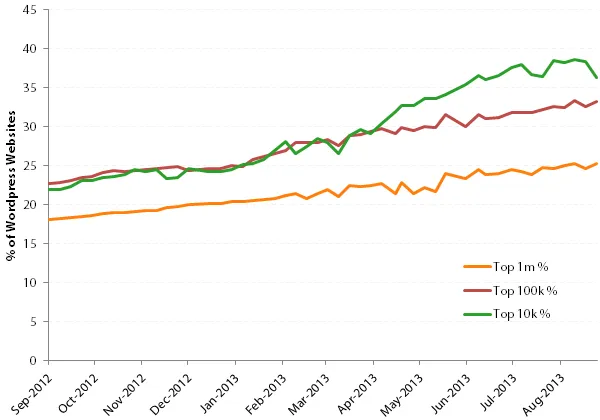 Percentage of WordPress websites using Yoast Plugins

These trends look very healthy, and would be enough to persuade me to give the Yoast plugins a go. Since 2012, uptake of these plugins has continued to grow and a significant percentage of WordPress sites now use them. Notably, it's been the WordPress sites found in the top 10k that have led the way from the beginning. This suggests that the plugins were effective from the start, and burst onto the scene with a bang. As word has spread, more and more people have started to use them.


Contact Form 7

Now for something a little bit different. Contact Form 7 is a popular plugin, but lesser known than the two above, that creates a custom contact form which can be embedded on a page of a WordPress site. Let's dive straight into the data with the same view as before showing the percentage of WordPress sites using the plugin.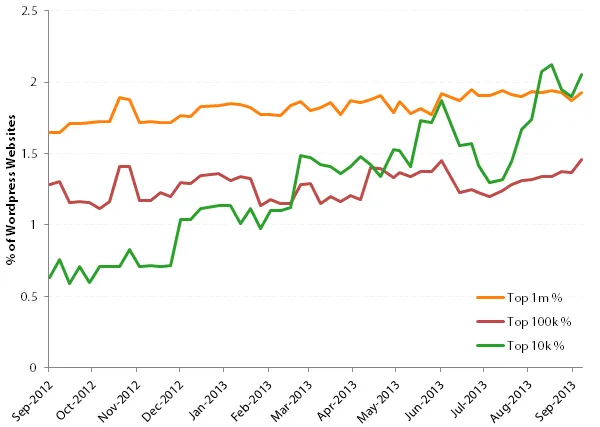 Percentage of WordPress websites using Contact Form 7

The most interesting thing about this chart is that the percentage usage started off as the lowest amongst WordPress sites in the top 10k. This trend suggests that before September 2012 the plugin was quite immature and/or there was a better alternative. Since that date though, the usage of the plugin has grown most rapidly amongst WordPress sites in the top 10k. This suggests that confidence in Contact Form 7 is growing, especially amongst WordPress sites in the top 10k. This upward trend would make Contact Form 7 a strong contender if I were looking for a way of implementing a contact form on a WordPress site.


Summary

Quite often just looking into the data tells the real story about what's working and what's not. You don't always have to rely on a strangers recommendation. With just a little bit of digging you can quite quickly find out all you need to know.

We've also recently added coverage for lots of WordPress plugins, theme and extensions which can be found under the WordPress Plugins category of widgets on BuiltWith Trends.