Inspectlet - Technology Growth Award Winner
⏰ Old Post
This post is over 9 years old - it might be slightly outdated and consigned to the history books.

Welcome to the first post in a series which celebrates some of the fastest growing web technologies out there today. Using BuiltWith data, we've highlighted a handful of companies who have all seen significant growth over the last twelve months (or more in many cases).

To kick off this series, let's take a closer look at one of those rapidly growing technologies, Inspectlet.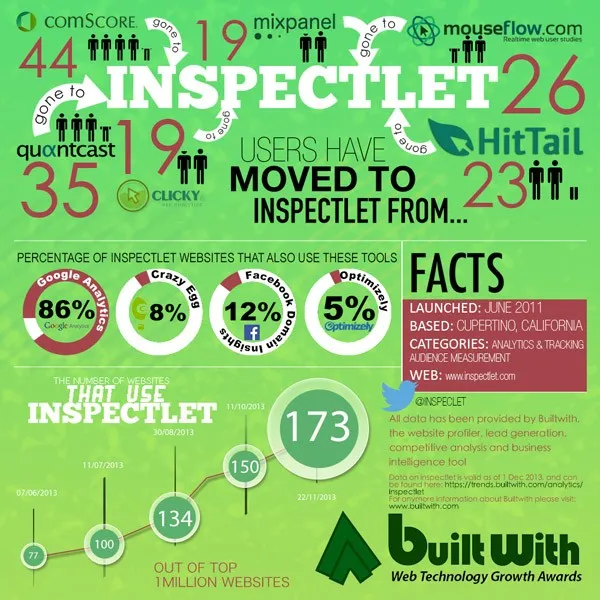 View full size

Inspectlet is a web application which helps webmasters gain a deeper understanding of what their visitors are thinking during interactions with their website. By using eye tracking heatmaps, screen-capture (actual recordings of the screen during visitor sessions) and user-interaction analytics, Inspectlet gives webmasters a way to observe their visitors' actions naturally.

The vision for Inspectlet was born back in the 2011, when founder Rachit Gupta set about helping web designers understand their visitors more effectively. He put a team together and in June of that year, the first version of Inspectlet was launched.

Fast forward to 2013 and Inspectlet is seeing some impressive growth. The usage numbers are still modest when compared with similar competing technologies, however, they are growing at quite a rate. As you can see from the usage trends chart below, Inspectlet has grown consistently month on month over the last year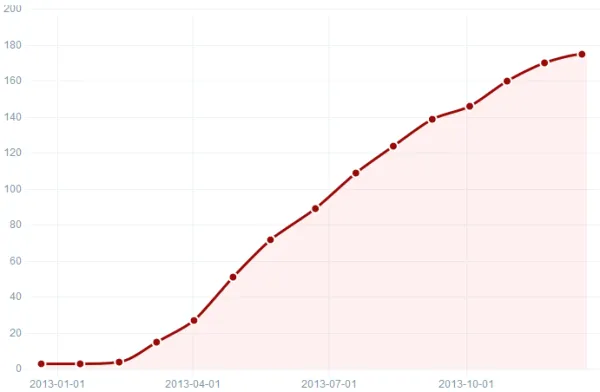 Top million growth of Inspectlet for 2013

One of the reasons for this growth might be because at the core of the vision for Inspectlet is the desire to make this technology widely available. In an interview from the early days, Rachit said: "I wanted to create a full user experience suite that's affordable to everyone, because I think everyone should care about user experience the same way they care about traffic numbers.". In practical terms, that translates into Inspectlet offering a more substantial free package than many other competing products on the market. Not only is this is a great way of encouraging webmasters to improve user experience by giving them access to valuable data, it also lets users give Inspectlet a real workout so they can make an informed decision about whether it's suitable for their needs.

Inspectlet has been receiving positive reviews since its launch, and if the usage trend continues to grow as rapidly as it has this year, the future looks very bright for Rachit and the team.

All of the usage data used in this post and the infographic above has been provided by BuiltWith. For more Inspectlet data see our Inspectlet Trends, updated weekly.

For more information on BuiltWith and the types of data on offer see our Pro Features.