The Growth of Premium Mail Providers 2014
⏰ Old Post
This post is over 9 years old - it might be slightly outdated and consigned to the history books.

For the last couple of years there has been a lot of hype around social media marketing, content marketing, growth hacking and a whole host of other buzz-phrases. Every so often "the next big thing" is announced and everyone seems to want to pile in.

In all of the commotion, some of the more traditional forms of marketing appear to have fallen by the wayside. Most businesses don't even consider physical marketing (using snail-mail to send newsletters, brochures etc) any more. Even email marketing has lost it's appeal for many.

It's true that email marketing isn't massively exciting. It isn't sexy and it definitely doesn't have the "wow-factor". However, email marketing works. It's tried and tested and when done properly, it gets results. With all of the new forms of digital marketing that have been introduced over the last couple of years, email marketing didn't die. It just kept plodding along, working hard for everyone who stuck with it. Lately, it's been seeing a bit of a resurgence.

There are two types of email marketing that are typically used today which can be broadly grouped as "Marketing email" and "Transactional email". Marketing email is what most people usually think of when they hear the term "email marketing". It would include things like newsletters and promotional emails send out to a mailing list. Anything sent in bulk would count as marketing email. Transactional email is a bit different, focussing on the emails that are sent out to an individual in response to a particular action or request. Examples of transactional email would include password reset emails, notifications about received messages, following up when a cart full of products is abandoned. Marketing through transactional email is a newer approach and it's the area of the most innovation of the last few years.

Today I want to highlight a few premium (paid for) email providers who have been growing over the last year or so. These aren't necessarily the biggest email providers but these are all services that stood out from the Builtwith data. They're all providers which, according to the data, are growing.

Mandrill
Mandrill is a transactional email product which has been developed by the team behind MailChimp (the popular email platform which sends out more than 6 billion emails every month). They describe the product by saying "Mandrill is MailChimp for apps" which sums things up quite nicely. App developers can use Mandrill to send personalized one-to-one emails (such as receipts, notifications or password reminders) to users.

Mandrill is run as a startup inside MailChimp and there is a lot of overlap with the parent company. A team of MailChimp engineers was formed to work solely on Mandrill and the MailChimp heritage shines through. Even the pricing structure Mandrill have adopted is similar to MailChimp, with a generous free usage quota.

Take a look at the Builtwith usage data for Mandrill. The trend is clear and appears to be accelerating into 2014. Mandrill looks like it might be a product to watch this year.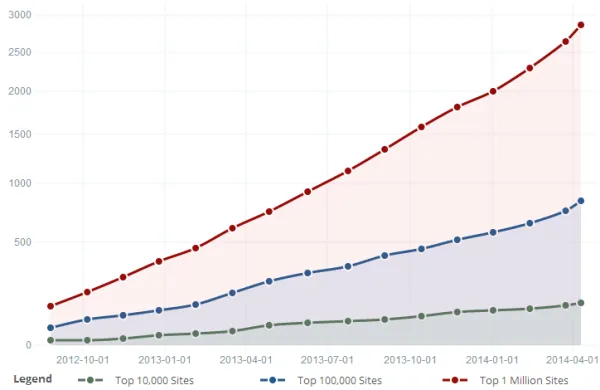 Mandrill Growth since 2012 in Top 10k/100k/1m Sites

Amazon SES
Based on the infrastructure developed to serve their own customers, Amazon offers an outbound only email service. The SES stands for Simple Email Service and that describes exactly how Amazon are pitching this.

As with some of their other services, Amazon SES users only pay for what they use. There is a free tier and close integration with some of Amazons other product offerings.

Amazon SES has been around for a few years now (since early 2011) and has seen a gradual increase in usage. The Builtwith trends data shows that the growth of Amazon SES has been slow and steady. Over the last year, the product has seen an average monthly increase in usage of just over 3% (based on usage in the top 1 Million websites).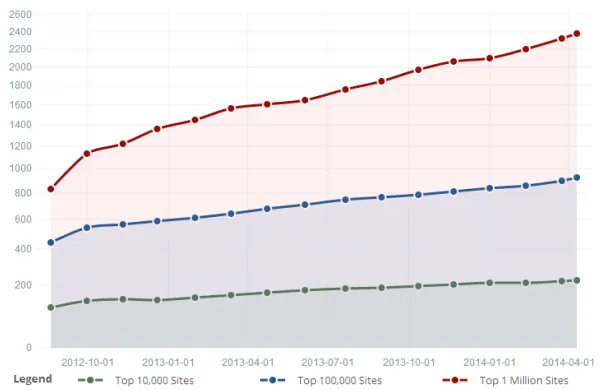 Amazon SES Growth since 2012 in Top 10k/100k/1m Sites

SendGrid
Founded in 2009 by a team of engineers who were frustrated with sending email using the tools available at the time, SendGrid has become an established product in the transactional email domain. SendGrid offer marketing email services but they're most well known for the transactional side of things. With intuitive reporting and analytics, SendGrid has a strong user base which includes companies like Pinterest and Foursquare.

As you can see in the chart below, SendGrid have a larger user base than Mandrill (who also offer a transactional email service, and are not afraid of being compared to SendGrid) and are growing month on month. However, Mandrill are growing at a faster rate and are closing the gap.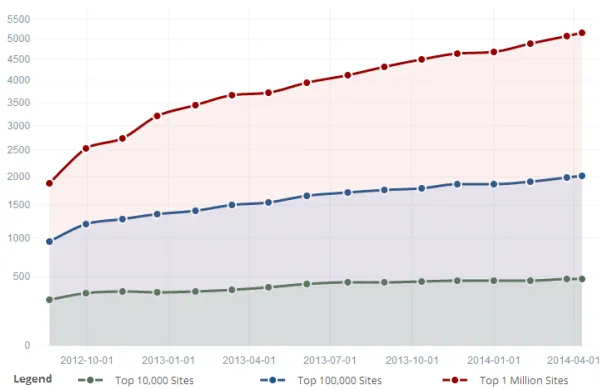 SendGrid growth across Top 10k/100k/1m sites since 2012

Wrapping Up
Although some of the buzz around email marketing died down for a little while, the practice never went anywhere. Today's best email marketing tools do more than just send email though, as the three products described above show. There's a demand for strong reporting and analytics and transactional email is growing in importance too.

The usage trends of these three products suggest that either more people are using email marketing as a whole or that people are turning to innovative products which offer a more comprehensive email marketing package.

Either way, the email marketing space could be interesting to watch over the next year or so. Mandrill look like they're going head-to-head with Sendgrid and I wouldn't be too surprised to see a disruptive new product or two enter the race before too long.

For a closer look at the data behind these email marketing products, as well as a whole host of other technologies, head over to the BuiltWith Trends pages. If you'd like to dig a little deeper into the BuiltWith data for email marketing products or anything else, a BuiltWith Pro membership might be for you. Have a look at what's on offer with BuiltWith Pro here.