How to Find International Customers by Technology Usage
⏰ Old Post
This post is over 9 years old - it might be slightly outdated and consigned to the history books.

It's very easy to forget about international markets, especially when running an online business. However, doing so would be a mistake. In 2013 North America captured just over one third of the global B2C eCommerce sales. While that is a pretty decent chunk of the pie, there is whole lot more business out there.

Looking overseas can be a great way to broaden your customer base (whether you're located in the United States or not), but how do you go about finding and reaching these potential international customers? (hint - keep reading, I'll show you)


Why International Leads Need To Be Treated Differently

If you've traveled internationally in the last few years there's a good chance that you've seen the "HSBC - The Worlds Local Bank" advertising campaign. It's plastered all over more than 45 of the biggest airports around the world. The HSBC campaign is centered around the point that the different corners of the globe all have their own ways of working. You can't treat them all the same. And HSBC are right.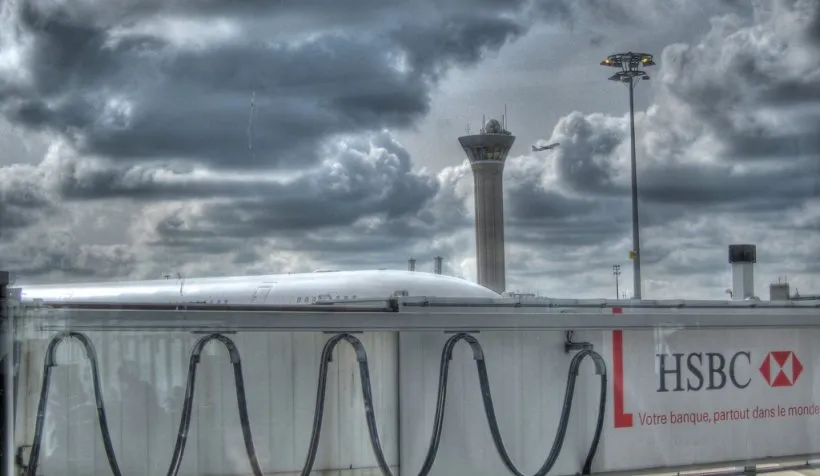 Chris Waits - Flickr

The same is absolutely true when marketing to international leads and seeking out international customers. It's not enough to just get your advertising or marking material in front of international leads. You need to know who you're pitching to and to really speak their language (literally in some cases).

Blanket campaigns which cover both home and international leads might generate some business, but they'll be far less effective than focused efforts which consider the country or region where each lead is based.

The first step along this road then, is to find out who your potential international customers are, where they're based and what they do. That is where BuiltWith comes in.



Finding International Customers

BuiltWith has information about websites based in all of the countries around the globe. With over 289,000,000 active domains indexed, there's a good chance BuiltWith will be able to help you find new international customers.

When taking a quick look at the data for any web technology covered by BuiltWith, you'll see a snapshot of where in the world the websites using that technology are based (websites using WooCommerce are shown in the image below). While this can give a good indication of where potential customers may be, the real value of the BuiltWith data can be found by generating reports.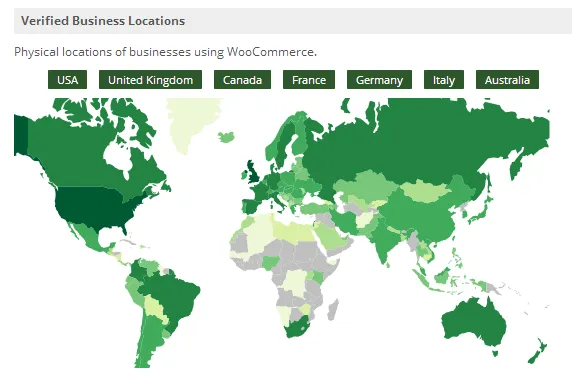 In BuiltWith, reports give you a structured list of all the indexed websites which match your chosen criteria. There are a range of filters available to help identify only the results you're interested in. To generate a list of potential international customers, you'll want to use the "Physical Location" filter.
You can begin by creating a report by following the steps described in this post. Then when you get to the "Physical Location" filter, select a country you're interested in (as shown in the image below). Currently, the supported countries for this filter are the following:



United States


United Kingdom


Canada


Australia


France


Germany


Netherlands


Italy


Spain


Mexico


More countries are added as requested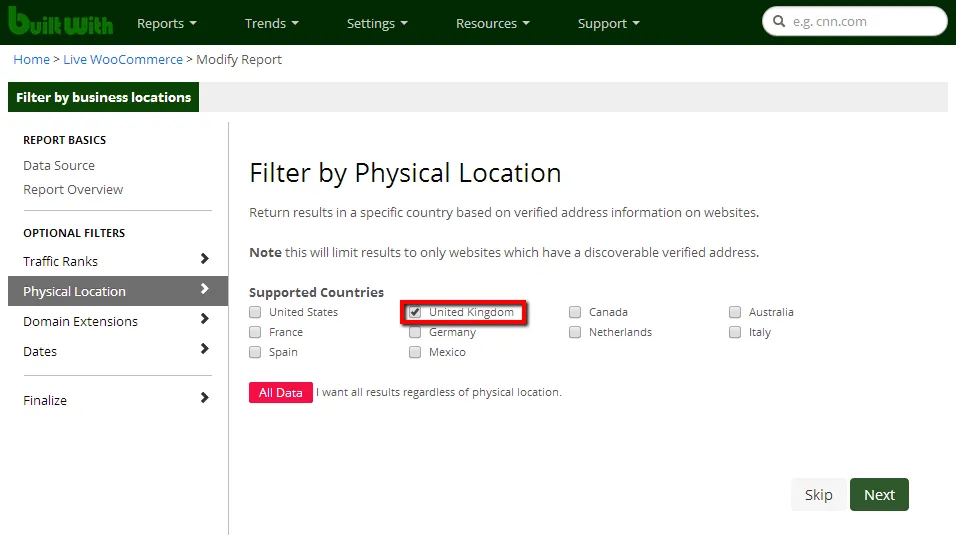 Then you can create the report in the same way as described in the step by step guide. BuiltWith will go away and find all of the websites which match your chosen criteria and generate the report for you. If you're creating several reports for different geographical locations, don't forget to give each report a useful name (Appending a couple of letters to the report name to signify the country tends to work well).

The image below shows the report for websites using WooCommerce, as before, but now only sites with a UK address are listed.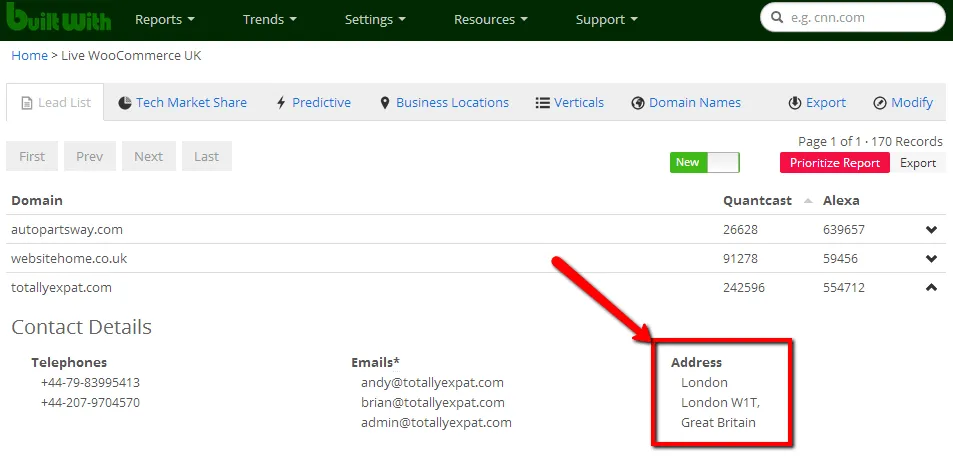 Another way of finding leads from a particular geographical region is to use an existing report (which might not have a Physical Location filter applied) and click on the Business Locations tab on the menu as shown below.





The list you'll see next will show how many websites from your report have a physical address in each of the regions shown. As you can see in the image below, these results are grouped in regions or states rather than whole countries. By clicking on a region you're interested in, you'll see more detail of the websites with an address in the area. This can be especially helpful if you want to run very tight geographically focused campaigns.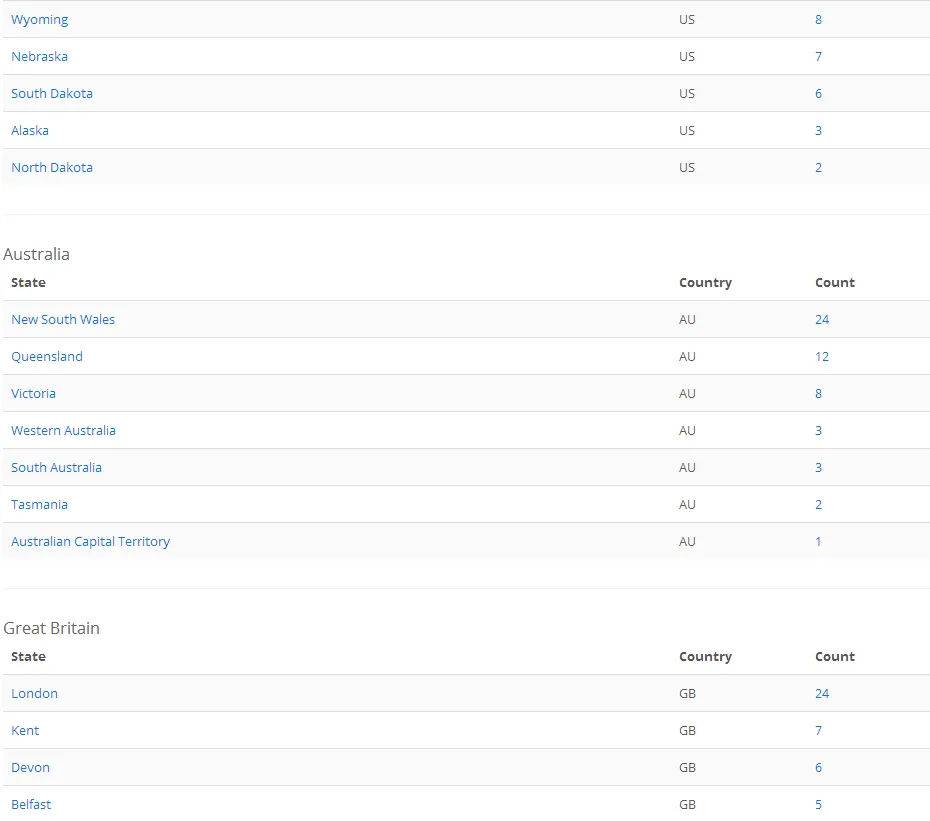 It's easy to overlook international leads or to treat everyone the same. You'll be missing out if you do. BuiltWith makes it easy for you to identify who and where you most likely future customers are. If you like what you've seen here, sign up for a free account and get started.