Using BuiltWith for Technology Research and Advisory
⏰ Old Post
This post is over 9 years old - it might be slightly outdated and consigned to the history books.

With thousands of SaaS applications, web frameworks and technologies available understanding which you should adopt can be a challenging task. Implementations are costly and time consuming, deploying the right product is important. Feature comparison won't cut it when making critical IT decisions.

BuiltWith is a powerful tool for assisting with technology research.


Market Share Validation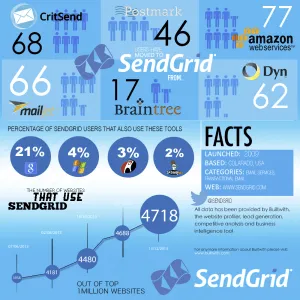 All 7,000+ technologies tracked are identified by high level and detailed categories. We report on the adoption of technologies within each category segmented by low, medium and high traffic websites. Across both of these you'll find available market share analysis in our freely available technology trends data.

BuiltWith Pro goes a step further providing the raw data used to create the trends graphs. This data allows you to select your own collections of technologies upon which to create market share comparisons and perform detailed analysis.


Vendor supplied client list and testimonial validation

Using the free technology lookup tool on our homepage or browser extension you can validate the presence of any Internet facing technology referenced in a vendor supplied list or testimonial.

Knowing which companies are using a technology combined with identification of your contacts within the organisation (via our LinkedIn Integration) opens up unique opportunities for unsolicited customer experience references.


Comprehensive Customer Lists

Vendors will rarely provide full customer lists and the references that are provided may not be representative of their average customers. BuiltWith Pro enables you to see a full list of the companies using any technology that we track.

Our advanced analysis tools enable you to quickly identify key customer groups within these lists. Segment by location, traffic levels, duration of technology use and spend.


Pulse check

Traction and a growing user base are critical to ongoing development and improvement of all applications. Active development is seldom sustained in the absence of growing user base. Our technology trends reports provide the raw insights into product and company performance based on actual installations and usage.


Big Data

Crawling the web on a daily basis we collect vast amounts of data which we make available to you. BuiltWith Pro provides you both with advanced online report building tools as well as raw exports of the data for your own onsite post processing.

Not only does this allow you to test your own hypothesis to find insights and opportunities in the data - on a commercial basis you can utilise our data scientists to assist with more complex data compilations.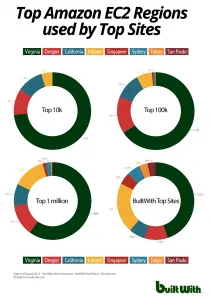 By knowing every Internet facing technology in every website you can gain an unparalleled understanding of:



Interaction between complimentary technologies.


Early visibility of emerging technologies.


Analyse adoption by industry, vertical, geography and time.


Competitive landscape by viewing movements of customers between competing technologies.


Independent - Empirical data

Importantly the data collection is carried out by us making it impartial and independent of influence from the technology vendors themselves. The data is free of subjective interpretation and hence non competitive with advisory services.

BuiltWith is regularly referenced as an authoritative source in the media, online and in conference presentations worldwide.

Like to know more? Sign up for a free account or contact us.