Entire Internet eCommerce Usage January-July 2015
⏰ Old Post
This post is over 8 years old - it might be slightly outdated and consigned to the history books.

Of the 328 million domains we re-indexed we've seen growth in some of the usual suspects. WooCommerce has continued it's growth increase by over a third, adding 247,245 domains with the technology. WooCommerce was acquired by Automattic in May of this year (Automattic are the company behind WordPress which is the software WooCommerce integrates with).

Spree Commerce are one of the biggest gainers though since January, doubling the amount of sites we detected using their platform. GoDaddy also added an impressive amount of domains as they've stepped up their offering with their redesigned GoDaddy Online Store. GoDaddy host 38.6 million domains so they definitely have the marketing ability to further increase their platform.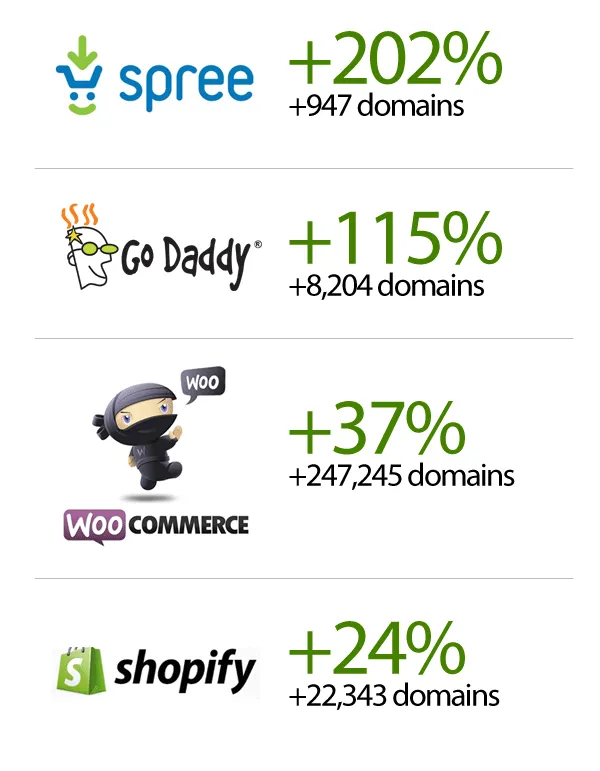 Biggest Drops

Magento Go was shut down in February of this year, it dropped in usage by 92% because of this, now only a handful of sites appear to be using Magento Go and these are probably just using old code that they have migrated to Magento CE.


Top 10 eCommerce Market Share on the Entire Internet

The current breakdown of the top 10 eCommerce platforms we track currently looks like this -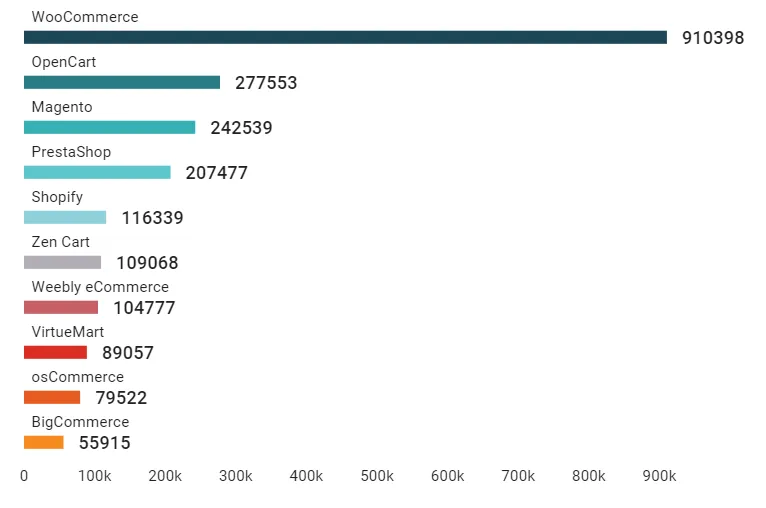 Totals for technologies found on the homepage of domains across 328 million sites

8 of the top 10 technologies continue to grow market share whilst osCommerce and VirtueMart appear to be losing market share. Magento gains the most from their loss as shown in the market share report for Magento.


Future for eCommerce

Similar to the CMS trends there are open source options and paid for options both gaining customers. The paid for solutions such as BigCommerce and Shopify continue to increase their market share and with that their financial resources will continue to increase allowing them to break into more of the open source market share. However we've not entirely seen that happen yet and products look WooCommerce have literally come out of nowhere to dominate the eCommerce technology trends.