Finding Digital Marketing Leads Using BuiltWith
⏰ Old Post
This post is over 8 years old - it might be slightly outdated and consigned to the history books.

Finding new leads and winning new clients or customers is a core activity for any business. Digital marketing is no different. Instead of shooting from the hip though, I'm sure you'll agree that it's smart to focus your lead-generating energies on the right crowd. You want to find leads who want to work with you.

In this post I'm going to show you some of the ways BuiltWith can help with tracking down high quality, relevant leads. I'll be specifically looking at this from the perspective of a digital marketing agency, but you could easily use a similar approach to find leads using BuiltWith for a range of different businesses.


Your Ideal Client

Hopefully, you already have a good idea of the services you offer and the customers you're trying to sign up. The specifics will vary from business to business, but I'd expect the following three to be important attributes of an ideal client for any business offering digital marketing services:



Clients with a marketing budget.


Clients using the same tools as you (or willing to start).


Clients who you can help.



You'll probably have other things to add to that list for your company. Perhaps you're targeting clients in a particular sector, niche or location. Perhaps you offer services to clients who use a particular analytics package or email marketing tool. That's all fine, and you'll be able to tailor the steps I'll show in this post to suit your needs.

So where do we begin to generate leads and find your ideal future clients?

For this example, let's imagine that we're looking to offer search engine optimization (SEO) services to dentists who have websites built using Wordpress who already spend money on marketing tools. That's a pretty niche market and one that might otherwise be difficult to quickly find leads in.

I'll first show you how the free BuiltWith Chrome extension can help, then I'll show you a much more powerful method using more of the features of BuiltWith.


Using BuiltWith To Find Leads For Free

The first step is to install the BuiltWith Technology Profiler extension for Chrome. Although the data available through this tool becomes more powerful when you have a PRO BuiltWith account, the free version is still handy to have around (as we'll soon see).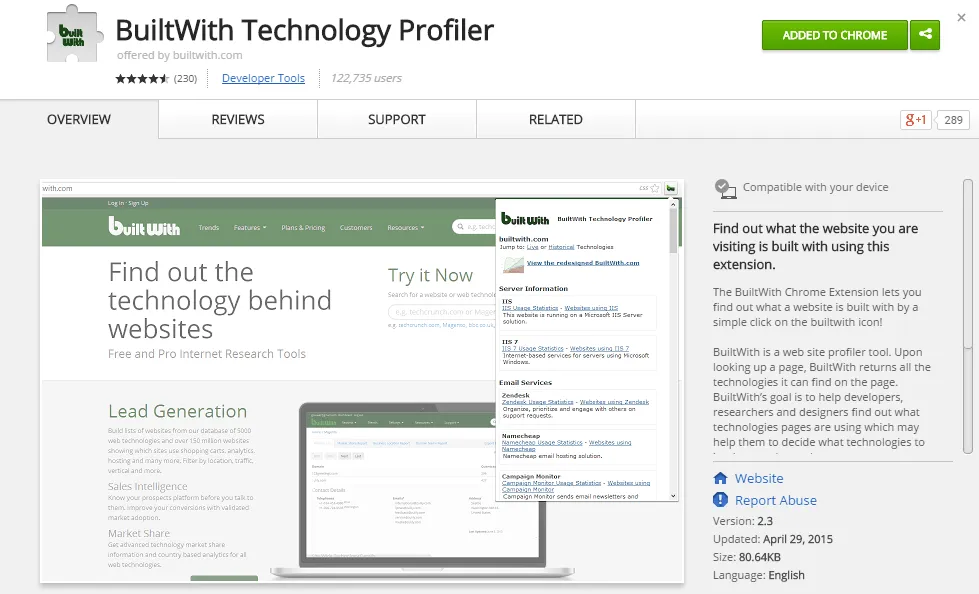 Then, since we're looking for dentists, let's head over to Google (or any other search engine of your choice) and begin our search for relevant sites. At this point, if you only want to find dentists based in your city, region or country, you'll probably want to modify the search term so that you're only shown relevant results. For this example though, I'll just look for any dentists websites. We'll filter out those not using Wordpress or paid marketing tools in the next step.





Next we can click through to each of the results and take a look at their websites. Once each has loaded, hit the BW extension button as shown in the picture below and you'll see which technologies are up-and-running on each site. Under the Content Management System heading, we're looking sites which have WordPress listed.

So far so good. In the image below, you'll see that I've found a dentists website that's built using Wordpress. We can also scroll down the list of technologies to see if the site is also using anything we know is a paid-for technology. In this case, it's not, and I can move onto the next search result.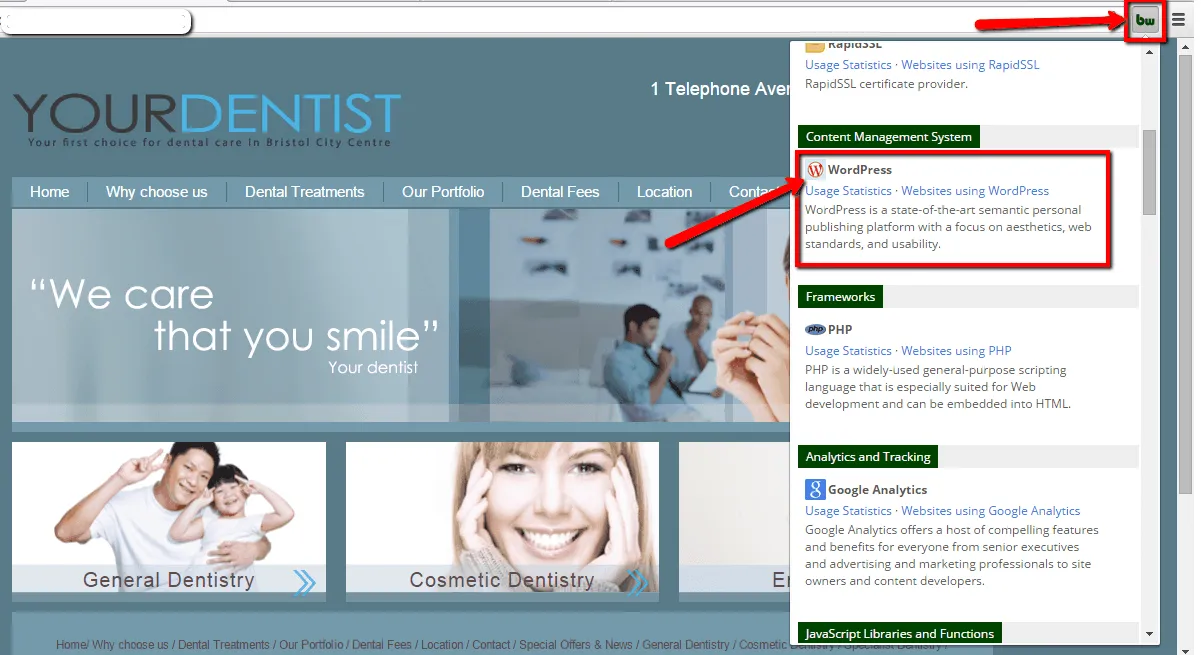 While methodically working through the search results in this way will turn up some great leads, filtering and reviewing the sites is a very manual process.

There is, and I'm sure you'll be pleased to hear, an easier way. In fact, there is a much, much easier way. Let me show you the simple way to generate a list of dentists sites using Wordpress who already spend money on marketing tools, using BuiltWith.


Using BuiltWith PRO To Find Leads The Easy Way

First, we'll need to log in to BuiltWith and create a new report. Because we're looking specifically for dentists here, the best place to start is with a keyword report. I won't go through the steps of how to do that in this post, but you'll find everything you need here. Essentially, a keyword report runs through millions of websites looking for your chosen keywords on their homepage or in their domain name. As we're on the hunt for dentists here, a keyword report is a great first step.

Next we'll need to filter for sites using Wordpress to remove everything else from the list, and also for sites that are known to be paying out for premium tools.

From the open report within BuiltWith, we can select "Prioritize Report", which will bring up a series
of options to help refine the list.





The key things we're interested in finding now are sites that use WordPress and sites that use premium, paid-for tools. So the filters we'll use to prioritize the report will be the "Known Spend" and "Implemented Tech" filters as shown below.

In this case I'll choose a known spend in the range of $10-$1000 and will look for Wordpress as an implemented technology (which I can select from the drop-down list shown in the image below).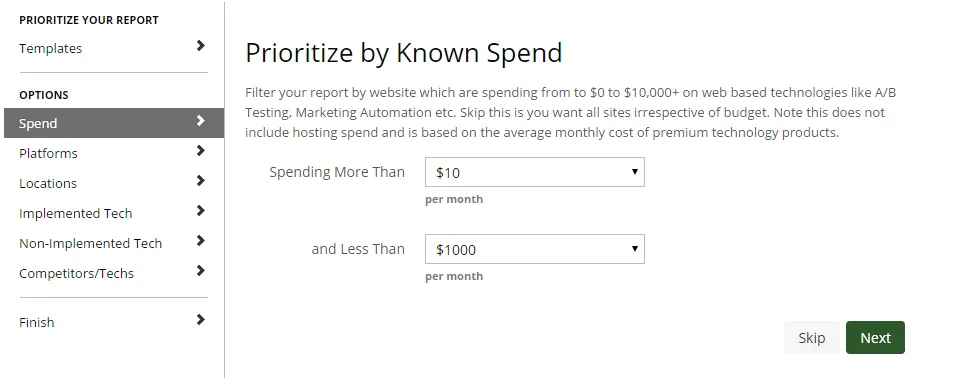 After finalizing the report and giving BuiltWith a few seconds to gather all of the results, I'm left with a neat list of 107 sites.





With a quick glance down the list, it's quite easy to see which of the sites are using premium technologies and could be suitable leads. Clicking through to see the detailed view of each site in the list clearly shows premium technologies as you can see in the following image (the star means this is a premium technology).





Heading over to the site and using the BuiltWith Technology Profiler again shows that there are in fact several premium technologies running on this site, as shown in the BuiltWith report. Note that this time I'm logged in and am using the PRO version of the extension which shows a bit more information and very quickly highlights premium technologies.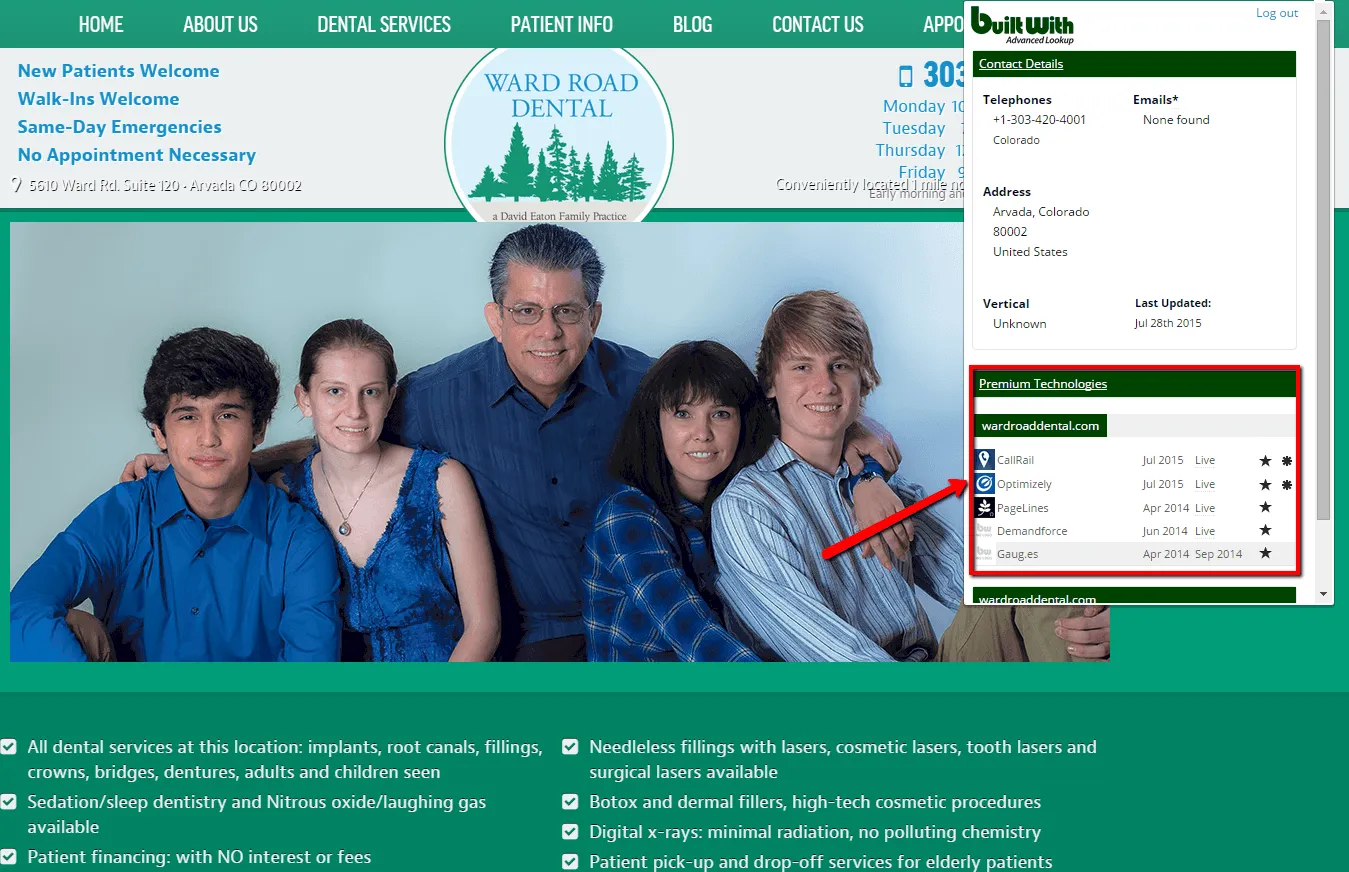 As you can see, the ability to filter results in the BuiltWith reports can give an extremely targeted list of potential leads. You could take this even further by filtering on more of the parameters which define your ideal client, not just those I've used here.

The same approach could quickly and easily be used to target any other keyword and any other technology, giving you an almost continuous supply of highly relevant leads.

You can find out more about the power of BuiltWith Pro here or get going straight away for free with the BuiltWith Technology Profiler extension for Chrome. If you don't use Google as your default browser checkout our other Browser Integrations.