WordPress vs Joomla vs Drupal - The Battle Of The CMS
⏰ Old Post
This post is over 7 years old - it might be slightly outdated and consigned to the history books.

The are a lot of articles out there weighing up the pros and cons of different Content Management Systems (or CMS as they're often called). This is going to be a little different.

Instead of comparing feature lists or the pros and cons of each, in this article we're going to take a look at some data. Which CMS is the most popular? Which is growing at the fastest rate? Are users switching between systems, and if so, which are they leaving and where are they moving to?

We'll get to all of that a little later on. For now though, let's start at the beginning.




The CMS Landscape

Long gone are the days of having to write code from scratch to build beautiful websites, unless you really want to of course. There's a broad range of options available to build platforms to publish content, store images, documents or anything else you might want to use a website for. Content management systems, as the name would suggest, exist to allow users to effectively manage their online content.

Although there are a lot of options available, when looking at all of the sites on the Internet there is one CMS that really dominates. More than 16 million domains in our index are built on WordPress, which represents around 50% of all the sites out there that are currently using a CMS.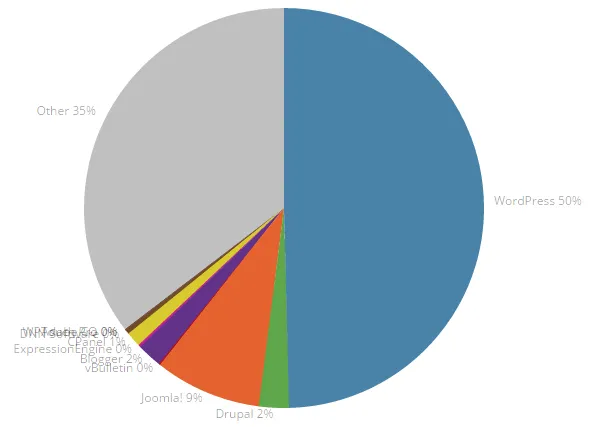 CMS Usage Statistics

What's also surprising about the numbers though, is that 35% of all sites that use a CMS that's not one of the top 10 we're tracking here. There's a significant long tail in Content Management Systems. There isn't room here to look in any detail at all of the different CMS's out there, so I'm going to focus on the top three in terms of usage: WordPress, Joomla! and Drupal.

Although WordPress has the majority no matter which way you look at it, it's lead is cut when we only look at the top 10,000 sites (instead of all sites on the Internet). Joomla! also has a bigger share of the market when we're looking at the entire Internet (9%), which fades when considering only the top 10,000 sites (1%). Drupal on the other hand is more of a CMS of choice for the bigger sites out there. Drupal can be found on 9% of the top 10,000 sites, but only 2% of all of the sites on the Internet.

| | | | | |
| --- | --- | --- | --- | --- |
| CMS | Top 10K (%) | Top 100K (%) | Top Million (%) | All Internet (%) |
| WordPress | 40 | 44 | 53 | 50 |
| Joomla! | 1 | 3 | 5 | 9 |
| Drupal | 9 | 9 | 6 | 2 |

Let's take a closer look at the big three.




WordPress

WordPress launched more than a decade ago in 2003 with the intent of improving the typography of everyday writing. Now, it's grown into the largest self-hosted blogging tool in the world. WordPress also offers a hosted blogging platform at WordPress.com, but we've not included the stats for sites built using that version of WordPress here.

WordPress is widely used and has been consistently growing in use since it's launch. If anything, the last 18 months have seen that growth accelerate. Among sites of all sizes, WordPress is seen as the CMS of choice with it's flexibility, adaptability and stability providing strong foundations for sites across the Internet.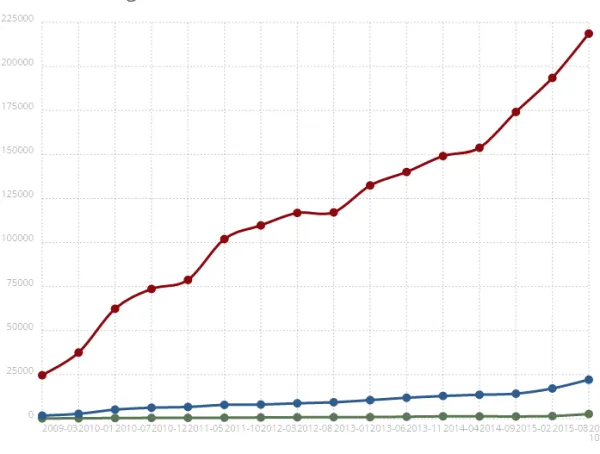 WordPress Trends


Drupal

Drupal is the smallest of the three CMS we're looking at here, which we've found on a little over 800,000 live websites. It's another open source CMS with an active and supportive community. Drupal is especially popular for websites in the education vertical, with a much higher proportion of it's sites being focused on education than either WordPress or Joomla!

As with WordPress, Drupal's growth has accelerated over the last 18 months, as shown in the chart below.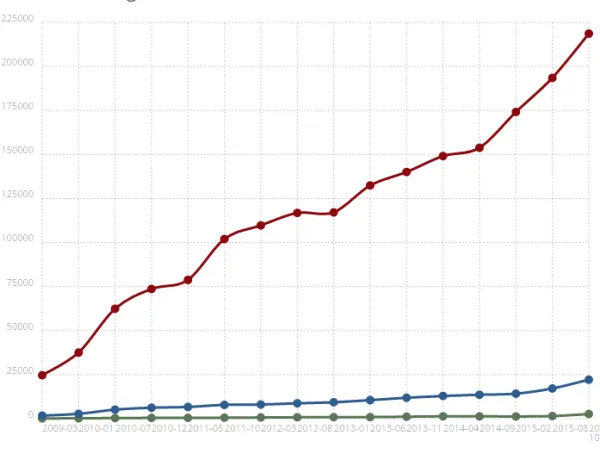 Joomla!

Like the other two systems we're looking at here, Joomla! is an open source CMS. It's the second most popular CMS out there which we've found on more than 2.8 million websites. Joomla! is less likely to be found on one of the top 10K websites, with only 1% of those using a CMS choosing Joomla!. Joomla! is much more popular among smaller sites though, claiming a 9% slice of the pie for all sites on the Internet.

Overall, Joomla! has seen growth over the last few years. However, the rate of growth hasn't been as steady as either Drupal or WordPress.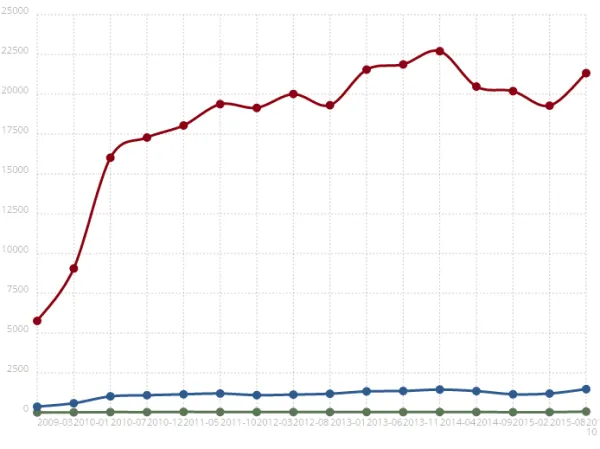 How Users Are Moving Between These Three CMS

While all of these platforms are growing in absolute terms, there is a clear flow of users moving from and to each platform. WordPress looks like the entry-point tool, and doesn't gain many users from either Drupal or Joomla. It seems that once people have used either Drupal or Joomla, it's unlikely that they'll move over to WordPress.

The same is not the case in the opposite direction though. Year upon year, WordPress is losing more users to Drupal and Joomla! In 2014, more than 8500 users moved away from WordPress, replacing the CMS with either Joomla or Drupal.

Drupal also does well with users leaving Joomla!. Although there is some movement in both directions, in net terms more than 2000 websites have moved from Joomla! to Drupal over the last 4 years.




What's Next For CMS?

With these three content management systems making it easier and easier to host content online in a useful and attractive way, the growth of these CMS looks set to continue. There are plenty of other systems also doing well as more and more websites are launched as time goes by. If you'd like to dig a little deeper into any of the data shown here, head over to our CMS pages. You might find a Pro account helps you uncover some gems too.