Premium Technology Acquisition Gains - Q4 2015
⏰ Old Post
This post is over 8 years old - it might be slightly outdated and consigned to the history books.

We've just finished an Entire Internet Update process we're going to have a look at some of the winners in terms of customer acquisition for premium technologies in this post.

The criteria for these companies is they -



Had to have at least 1000 domains running their software at our last entire internet update in June 2015.


Must have a payment option for their software


Sorted by the multiplier of growth not just increase in domain coverage



Here are the results -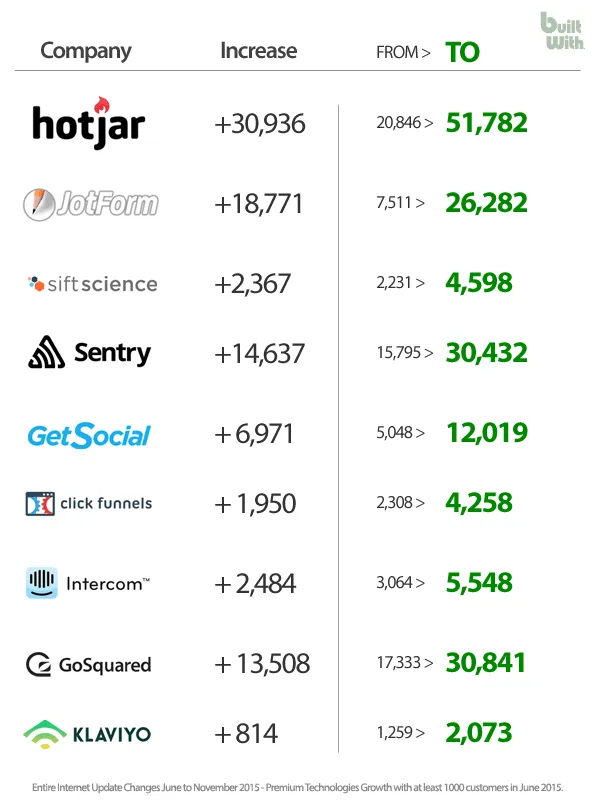 HotJar grew 2.4x in the 4 months between updates - they provide an all-in-one analytics and feedback solution.

JotForm provides drag and drop form building features and has seen a 3.4x growth in the past few months. JotForm does have a free solution as well which may account for some of this growth.

Sift Science provides fraud management services and lists airbnb as one of their customers, the amount of websites they appeared on doubled in the past 4 months.

Sentryis a real time crash reporting app for websites - it help find client bugs and is used by stripe, uber and Instragram. They almost doubled the amount of sites we detected it on.

GetSocial is a viral content promoting tool that more than doubled the amount of sites we detected it on!

ClickFunnels provides a marketing funnel builder tool to try to increase conversion rates, their software was found on 1.8x more sites this update.

Intercom is normally used as an internal web app tool for communicating with end users - we saw a non-logged in increase in usage of this tool almost doubling.

GoSquared provides analytics and reporting tools for businesses. We saw a 1.7x increase in its deployment on domains.

Klaviyo provides a marketing tool to segment, send reminders and personalized newsletters - it increased it's domain coverage by 1.6x.

Congrats to all of these providers!