Magento Version Usage
⏰ Old Post
This post is over 7 years old - it might be slightly outdated and consigned to the history books.

We've been tracking the usage of Magento versions for a few years now and have just added support for Magento 2 tracking as well as version based tracking for those versions of the very popular eCommerce based software. The interesting thing about Magento software upgrades is that they aren't as simple as the one-click upgrades that software like Wordpress support. This means that upgrade paths are much more gradual in comparison to other types of software.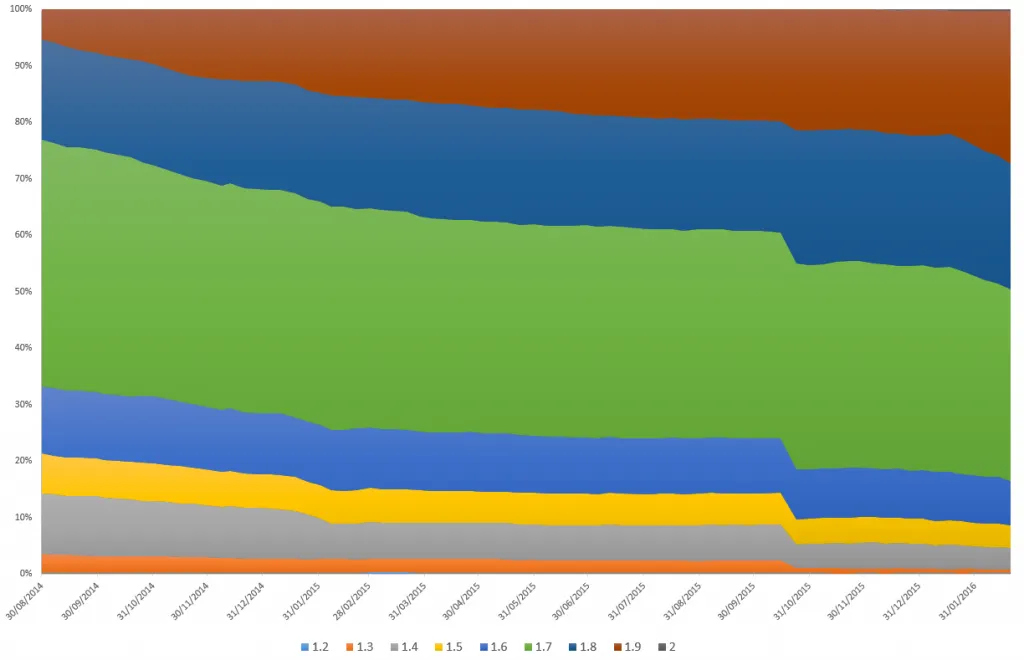 Version usage of Magento in Top 1m sites between September 2014 and February 2016 - Larger Version

Version 1.9 gained the most usage whilst version 1.4 lost the most usage. Version 2.0 has seen a slow up take but that can be attributed to the fact that there's no upgrade path from 1.9 to 2.0 as it's a whole new system. Version 1.9 has also seen a sharper increase in market share at the start of 2016 bucking a smoother trend that we've generally seen over the entire time period. Version 1.7 is still currently the most popular of the versions but it's market share is decreasing now and will eventually be overtaken by v1.9 in a few more months.

The step in sites around November 2015 can be attributed to a change in top 1m sites that we index, moving from the Quantcast Top 1m, which is no longer available to the BuiltWith Top 1m - an amalgamation of the Quantcast 100k, Alexa and BuiltWith top sites.

In the future we expect to see more sites using version 1.9 whilst the 2.0 platform matures. Plenty of companies will be offering 2.0 upgrade services and no doubt a more automated path to 2.0 will eventually be made available and that should increase the 2.0 usage of Magento going forward.