Custom Export
Introducing a Powerful New Export Feature in BuiltWith Pro: Custom CSV Export.
We are thrilled to announce the launch of our innovative export function within BuiltWith Pro. This remarkable feature empowers you to generate a customizable and exportable CSV file in your desired format.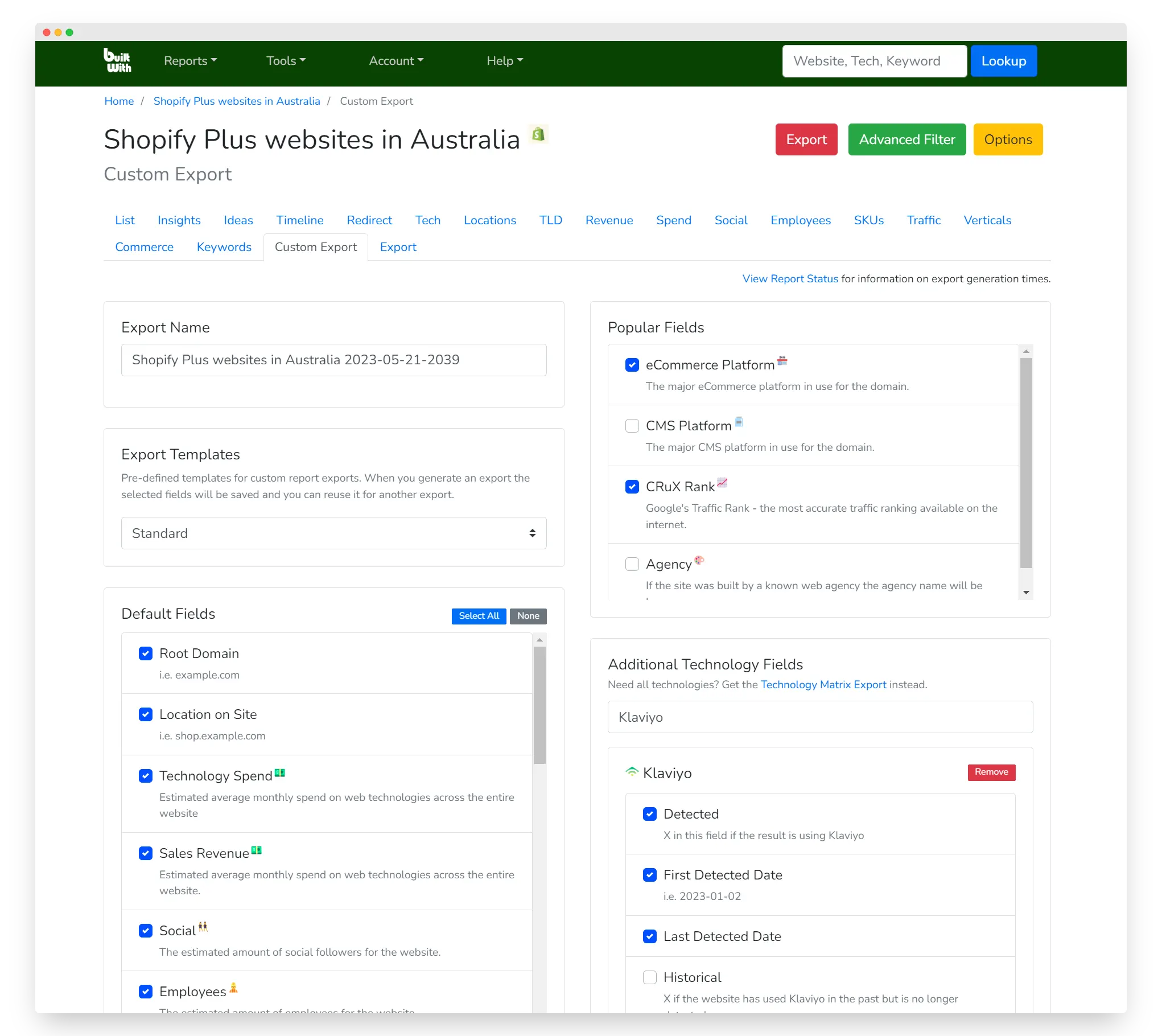 Now you can effortlessly select from an extensive range of fields, including domain, site location, spend, revenue, social count, employee count, company name, verticals, tranco, majestic, page rank, umbrella, telephones, emails, and social media URLs, such as Twitter, TikTok, LinkedIn, Facebook, and Instagram. Additionally, you can include data on people names, city, state, country, and technology detection dates.
Beyond the basics, our popular 'Agency' field allows you to identify the web development agency responsible for creating the website. Plus, you can effortlessly integrate other technologies into your export – for instance, display which sites in your list utilize different platforms.
Harness the power of advanced customization with BuiltWith Pro's new export function, and experience the ease and efficiency of data management like never before!
Key Features
Extensive Range of Fields: Access and select from a vast array of fields, including domain, location, revenue, employee count, social media URLs, and much more.
Customizable Export: Create an exportable CSV file tailored to your requirements, making it easier to manage and analyze data efficiently.
Advanced Customization: Combine technology and website data in one export, and even track the web development agency responsible for creating a website.
Efficient Data Management: Save time and effort with streamlined exports designed to suit your data management needs.
Experience the power and convenience of a customizable and user-friendly export function with BuiltWith Pro. Try it now and make informed business decisions with ease, accuracy, and efficiency.
Just click the 'Custom Export' tab when viewing reports in BuiltWith Pro. What this demo to show how custom exports are created.