SaaS Pricing Reports
We now provide SaaS Pricing Reports, that is, the average cost of a SaaS tool based on prices we find on 'Plans' pages of websites.
Our primary focus is to identify websites that showcase their Plans and Pricing pages while explicitly mentioning their monthly or yearly pricing structure.
We cater to a wide range of currency symbols like the Dollar, Euro, and Pound, to create a more inclusive experience. To begin, we search for pricing plans listed on a website. For instance, if a Plans page displays three pricing points, we'll take the sum and find the average to categorize the website in a specific group. This could be something like "SaaS Pricing Over $100/Month."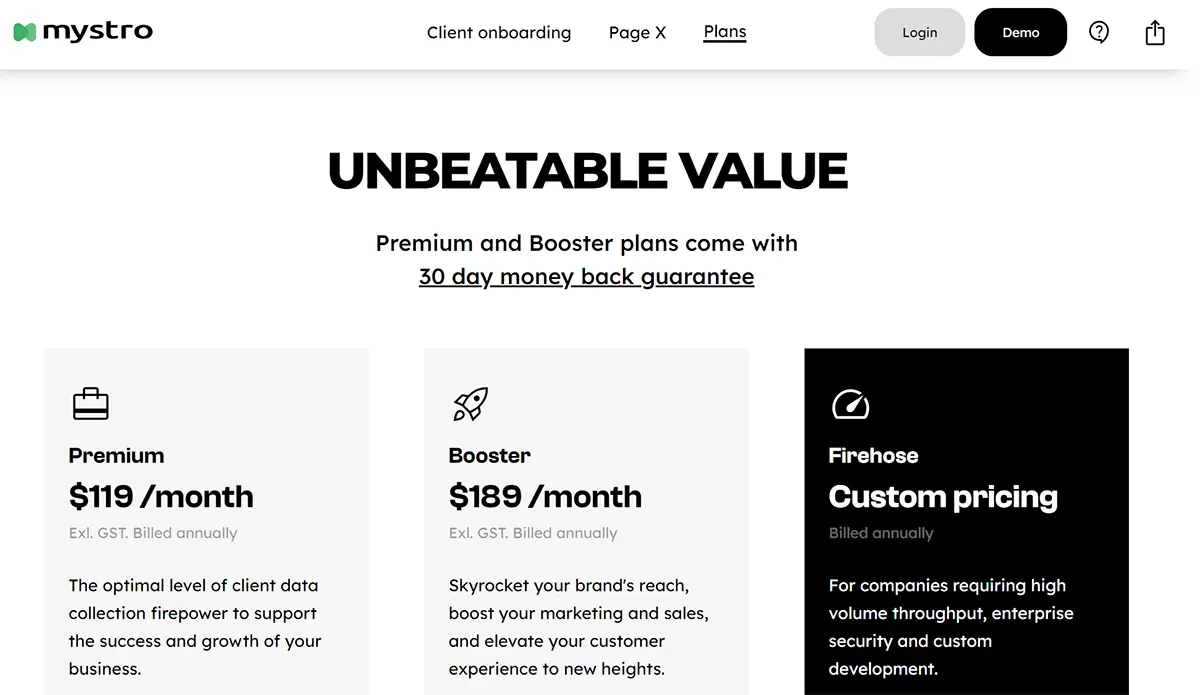 This site appears in our
SaaS Pricing Above $100 Per Month
page for example
The purpose of this meticulous categorization is to offer more precise insights for your needs. Whether you're a SaaS provider looking to set a competitive price or a consumer interested in analyzing the vast SaaS market, our Pricing Reports are designed to provide you with the most accurate data possible. To ensure the utmost reliability of our pricing reports, we only evaluate websites that provide transparent and explicit information. By focusing on pricing plans that display supported currency symbols and clearly mention the plan duration, we create a reliable dataset that benefits both SaaS providers and customers alike.
Our SaaS Pricing Reports serve as a valuable resource for anyone looking to delve into the world of Software-as-a-Service pricing and find customers offering SaaS tools with a certain technology pricing point. With a keen focus on accuracy, transparency, and relevance, we provide actionable insights that can significantly impact your decision-making process. Whether you're a SaaS provider or a customer, our reports are tailored to help you make the most informed choices possible.
Dive into our world of SaaS Pricing Reports now to discover the vital insights that will help propel your business ahead. As always, we're committed to staying up-to-date with the latest trends and patterns concerning technology usage, ensuring you receive the most relevant and accurate information available.
Browse the new reports below -