AdRoll – Technology Growth Award Winner
⏰ Old Post
This post is over 9 years old - it might be slightly outdated and consigned to the history books.

This post is part of a series looking at some of the fastest growing web technologies online today. Using BuiltWith data, we've highlighted a handful of companies who have all seen significant growth over the last twelve months (or more in many cases). Last time we took a closer look at Inspectlet. Today, it's the turn of AdRoll.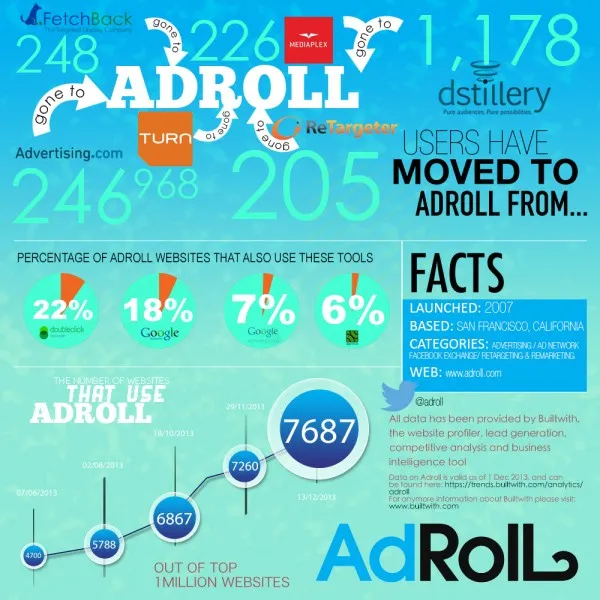 AdRoll was launched in 2007 and is now the world biggest retargeting platform, serving more than 10,000 advertisers across the globe. Retargeting is a relatively new concept that's been making it's way into the online advertising mainstream over the last few years and is proving to be very effective.

Retargeting is all about keeping track of people who visit a site (usually an eCommerce store) and once they've left, displaying adverts to bring them back. AdRoll explain the process well here, where they identify that only around 2% of shoppers become customers on their first visit to an online store. Retargeting is used to bring back the 98% of people who didn't buy first time around in an effort to increase sales.

AdRoll was formed in 2007 but didn't go to market with their retargeting offering until 2009. In the early days, AdRoll saw retargeting as something they could offer to customers for free as an addon to their other products. However, when the team noticed that their relatively unknown retargeting product was performing well and generating interest, a change of focus brought retargeting to the fore.

When first venturing into the world of retargeting, AdRoll were very aware that responding well to customer feedback would be essential to build a successful platform. With a lot of experimentation and investment in R&D, AdRoll has been able to demonstrate the power of retargeting and has grown into the platform it is today. Now, on average, AdRoll retargeting customers earn $10 for every $1 they spend on retargeting.

Boasting a customer retention rate of 97% with some big players like Hipmunk and Udemy jumping on board, it's no surprise that AdRoll has experienced sustained and significant growth for the last three years.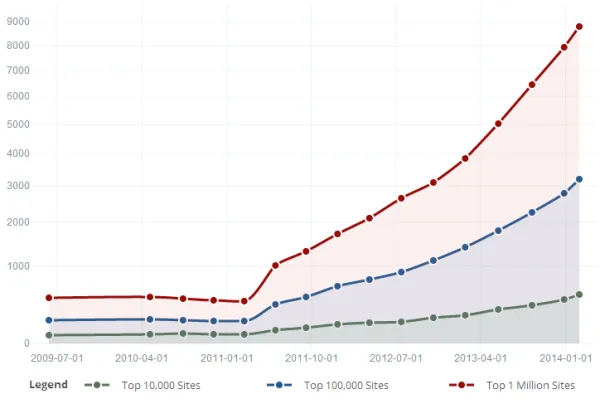 Amount of sites in each top site group using AdRoll over time.

AdRoll HQ is in San Fransisco and the company also has an office in New York. Last year, with a huge increase in European business, AdRoll opened a base in Dublin, Ireland, and looks set for some significant expansion over 2014. It seems that there's just no stopping AdRoll - the march on Australia is next!

All of the usage data used in this post and the infographic above has been provided by BuiltWith. You'll find more AdRoll data here. To find out more about BuiltWith and the types of data on offer head over to view our Pro Features.