WooCommerce Version Distribution
⏰ Old Post
This post is over 8 years old - it might be slightly outdated and consigned to the history books.

Along with our new Magento Version Distribution stats, we have also added WooCommerce version distribution detection.

The great thing about this detection is over the long term you will be able to see how quickly websites upgrade to newer versions of software. WordPress for example have streamlined their upgrade procedure, doing it without interruption or manual intervention in some cases. You can see this in the speed of uptake for WordPress 4.0.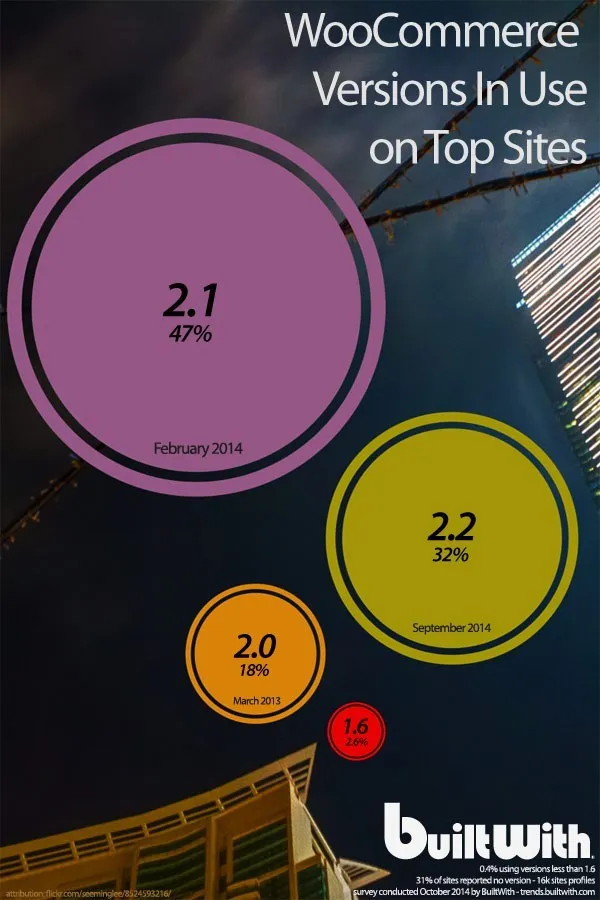 Version distribution for WooCommerce on Top Sites in October 2014 - Full Size

The most prevalent version of WooCommerce is 2.1, being released 8 months ago it is quickly being caught up by version 2.2 - the trends for these technologies will now allow us to see how fast version uptake is for new versions of WooCommerce. See all versions of WooCommerce we now track.

Pro users will be able to flag sites that have either not upgraded or upgraded to the newer versions shortly after their release using this new data.